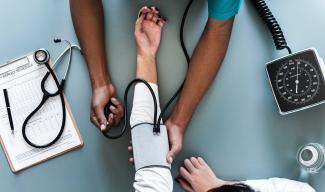 Keep Health Care Costs Down While Caring for a Child with Special Needs
There is no getting around it—health insurance is complex and complicated. You have to have it and there is no one-size-fits-all solution. And, when your child is living with a special need it makes the whole process even more complicated. Finding in-network specialists, scheduling exams, and keeping track of copayments and deductibles can be exhausting. This struggle is all too real for the families and guardians of the 10.2 million U.S. children (14% of all American children), who have special health care needs, according to a Health Resources and Services Administration survey. Because some needs are not identified until the child is of a certain age it can mean a drastic change in the health insurance you've always had. Here are a few health insurance elements to consider to best care for your child with special needs.
First off, things are slowly getting better when it comes to obtaining total coverage. In the past a pre-existing condition could "lock" someone out from obtaining insurance. Thanks to health care reforms, insurers can no longer deny health coverage to youth under the age of 19 based on a pre-existing condition. If your child is diagnosed with a need that's going to require special health care it is important to act swiftly. Right after your child is born you have a 30-day open window to add the baby to your health plan until you have to wait for Open Enrollment periods to come around for any changes to your health plan. For government-sponsored programs, there not the same time limitations, but because forms and paperwork may take some time process it's advantageous to apply as soon as possible.
A Health Savings Account (HSA) could mean you come out ahead on medical bills. Shopping for health insurance means weighing the costs, and a copay health insurance plan is going to look cheaper upfront, but an HSA-based plan often means more savings in the long run. With a HSA you have more independence and autonomy in deciding where your health care money is being spent. Check if your employer offers this as an option and definitely consider it if you are enrolling in a private plan in the Health Insurance Marketplace.
Dependent on situation in years past you likely never considered Medicaid (which operates under different monikers in different states). In short, Medicaid is a government-run program for people who meet income and/or disability requirements for medical services. Since the income limits vary by state, one of the first steps is checking to see if you qualify. If annual income surpasses the limit for Medicaid don't worry. There are other federal program options available for youth, such as Children's Health Insurance Program (CHIP) for children under age 18, and Children with Special Health Care Needs (CSHCN), a state health care benefits program for children with disabilities under age 21. Government programs can help in ensuring your child is completely covered as expensive medical bills will almost inevitably add up.
Another government option to consider is Social Security Income payments, which also vary between states. Children under age 18 can qualify for the monthly payments if they have a mental, physical, or combo of conditions that meet the disability definition and if income falls within the limits of eligibility.
Whether you have health insurance through a private employer or have a mix of family coverage through private and government plans, it's essential to know your plan and benefits inside out. Keep an updated print or digital copy of the entire policy. A case manager is a type of advocate who can serve as your health insurance expert and offer tips given your situation. Check to see if case management is provided through your plan or program. If not, get in the habit of calling your insurance provider with proactive questions.
Before enrolling your child in a government program or changing health insurers, explore all of your options and compare benefits before signing. Ask of each plan if it will cover the physician, services, and prescriptions your child needs. 
As the parent of a child with special needs don't accept the decisions of your plan or program blindly. If you think something should be covered in your child's treatment, it's your right to appeal a decision of denial.  
Resources
*This content is developed from sources believed to be providing accurate information. The information provided is not written or intended as tax or legal advice and may not be relied on for purposes of avoiding any Federal tax penalties. Individuals are encouraged to seek advice from their own tax or legal counsel. Individuals involved in the estate planning process should work with an estate planning team, including their own personal legal or tax counsel. Neither the information presented nor any opinion expressed constitutes a representation by us of a specific investment or the purchase or sale of any securities. Asset allocation and diversification do not ensure a profit or protect against loss in declining markets. This material was developed and produced by Advisor Websites to provide information on a topic that may be of interest. Copyright 2023 Advisor Websites.