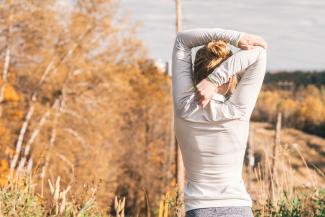 Get In shape - Financial Fitness 101
We're all familiar with fitness fanatics, raving about life changing workouts guaranteed to get you into tip top shape. While there is a new fitness craze in the air, it's time to exercise your wallet. Financial Fitness is a set of goals or programs to help you identify your financial goals, and how to get in the best financial shape of your life.
Start with the Assessment
When you join a gym, what's the first thing that you do? At most fitness centers, an assessment of your weight, fat percentile and over all - you guessed it - fitness. To strengthen your financials, you need to be realistic with your current state. "Check your credit, tally up your emergency fund (aim for six months of living expenses), look at how much you are contributing to your retirement plans, and get a handle on how you're splitting up your savings between stocks and bonds," an article from Time suggests1. Look at what your daily, weekly, monthly spending is as well as use budgeting apps to help you visualize your spending.
Once you let the reality of your financial state set in, it's easier to set reachable goals. Really narrow in on a goal with a financial professional to lay out the steps to actually achieving it. Before you can start running those marathons, you got to lose those 20 pounds. In financial fitness, that dead weight is debt. Most financial professionals agree that tackling your debt is key to financial strength. "Curtail the use of debt to consume what is crucial and avoid high-interest rates and potential fees by minimizing the use of credit cards. Build a debt management strategy to reduce and eliminate high-interest debt and to accelerate the payment of debts like student loans and your mortgage, if they are a priority" according to BNN2.
Once you lose the weight, it's time to get in the game - stocks and bonds. Start with a low-cost, globally-diversified portfolio that's appropriate to achieve both short and long-term goals3. And above all, discuss with a financial professional a plan to get you where you want to go.
And finally, to maintain peak financial fitness, Forbes suggests that everyone should, "start reading about markets: You don't need to get deep in the weeds on financial derivatives, but have an idea about what is driving markets and why. Spend five minutes each day devoted to reading only about markets and I guarantee it will be beneficial to you.4"
Resources
1. http://time.com/money/3708117/financial-fitness/
2. http://www.bnn.ca/pattie-lovett-reid-7-steps-to-financial-fitness-1.739351
3. http://www.bnn.ca/pattie-lovett-reid-7-steps-to-financial-fitness-1.739351
4. https://www.forbes.com/sites/kristinmerrick/2016/12/21/2017-how-to-make-it-your-year-of-financial-fitness/#5ccdd1212ef6
*This content is developed from sources believed to be providing accurate information. The information provided is not written or intended as tax or legal advice and may not be relied on for purposes of avoiding any Federal tax penalties. Individuals are encouraged to seek advice from their own tax or legal counsel. Individuals involved in the estate planning process should work with an estate planning team, including their own personal legal or tax counsel. Neither the information presented nor any opinion expressed constitutes a representation by us of a specific investment or the purchase or sale of any securities. Asset allocation and diversification do not ensure a profit or protect against loss in declining markets. This material was developed and produced by Advisor Websites to provide information on a topic that may be of interest. Copyright 2023 Advisor Websites.